---
If you want to give your company's contact information to someone then business card are the first thing that comes to your find. They are still the easiest and the fastest way of sharing contact details with another person. In this modern age where everything is going digital, business cards too found a way into the digital palace. Nowadays, almost every mobile app development company provides apps for creating and designing digital business card.
Check- How Local Businesses Can Increase Sales During Lock down?
Function of business card apps
Creating a business card is often just one out of the many functions of these apps. Here are some other functions which this app can perform.
1. Designing the card-
Digital business card need not look boring like the conventional ones. The freedom to design and customization is one of the key features of this app. From changing fonts to choosing background color and selecting intricate designs, everything is in your control. This allows to create digital business cards completely personalized as per your needs.
2. Scan business card-
The business cards scan app allows you to scan an existing card and make a digital copy of it. This means you do not have to go through the tiresome process of filling in the details from the card. The app can isolate every detail and fill them up in the digital version accordingly. You can even customize the digital version in case you do not want it to look like your original business card.
3. Storing and organizing cards-
There are numerous problems associated with paper business cards. They are not easy to find, be it stuffed in your wallet or on the desk. It is very much possible to lose them which can be quite annoying. Also, with time they undergo wear and tear, and with time the print on the business card wears off. Digital cards on the other hand can be easily stored and managed. You can simply time the name or the category and you will find the card in no time.
4. Sync with phone book-
The card scanner software can perform another function. The app can identify the name, phone number and email address on the business card after scanning it. Then it can automatically create a contact in the phone book of your smartphone using those details. It is a quick and effective way to save the contact details on your phone.
The best app for business cards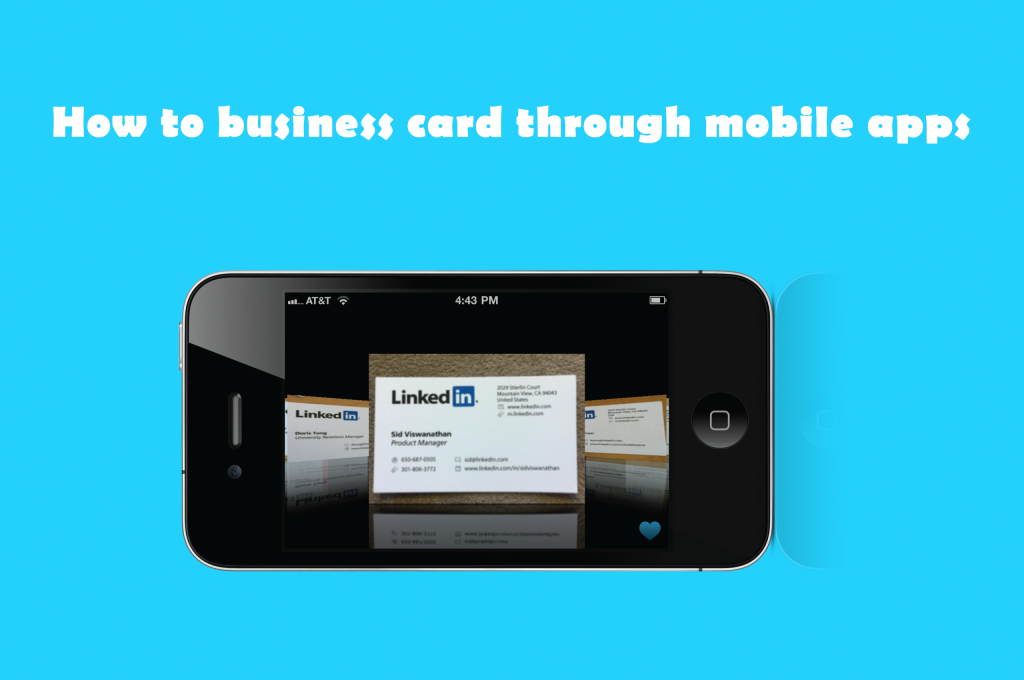 It is really difficult to pick out just one app and call it the best. One app may have a special feature while the other easy to use. Thus overall, here are some of the top business card apps.
1. CamCard-
The business card scanning software used in the app is what makes this app special. This app can automatically recognize and scan a business card if you keep it in front of your phone camera. Simply hold the business card in your camera's field of view and tap the camera button in the app. You can scan more than one business card at a time as this app allows the phone to scan in batches.It will create a contact based on the data it has scanned, adding new spaces and fields as necessary.
The app also allows you to create your own digital business card. The details entered by you can be shared to other CamCard users who are nearby or by using a QR code.
This app is available on both android and iOS devices. While it has a free plan, you can enjoy all its features by paying $5 every month for one user.
2. Business Card Maker-
This business card maker app has all the functions you need to create a digital business card from scratch. You can create two types of business cards with it, one is the standard horizontal card and other is a vertical card. You will need to provide all the details that you want to keep on your digital business card. After that it is up to you how you want to proceed with the creation.
This business cards design app has a designer which makes the whole process fast and simple. You choose from the template menu and make a few edits and get your card ready in seconds. On the other hand, if you want a totally personalized digital business card then the app provides all the tools you need. You can change style, add texts and stickers, change backgrounds. You can completely edit the text from changing fonts, color and opacity.
This is one of the best business card app android and has both free and paid features.
3. SnapDat-
This is a business card to contact app that is favoured by many smartphone users. You can either create one business card or multiple cards that may be used for different purposes.
This business cards app for iphone integrates itself with the address book on your phone and synchronizes it regularly. You can send or receive digital business cards via this app or even over email. While this app is available for free, it can be conveniently used for both personal use and business purposes.
4. Evernote-
This multipurpose app is great for scanning and saving business cards. It has a document scanner which also acts as a scanner for business cards. When a card is kept in front of the camera, the app automatically recognises it as a business card and saves the data. You can even scan multiple cards at a time just by pointing the camera towards them. In case if it ever fails to recognise a card, you can manually save it.
This app saves the business card in the note with all the details automatically filled in the respective fields. It also stores the photo of the business card you scanned in case you want to know something specific from that card. You can even add some notes under it if you want. This makes it the best app for storing business cards.
This app is compatible with Android and iOS devices, as well as computers. The app is free to use. However, paying $10 a month will unlock some of the unique features.
5. Inigo-
If you want a business cards organizer app then this is the app you need. With this app you can effectively manage all your business cards and find the one you need without hassle. This app is mainly targeted towards organisations rather than for your personal use. You can even create custom templates for business cards and share it to your team via the app.
The app is compatible with all smartphones. It has a free version as well as a paid one. The paid one is billed annually at the rate of $5.49 a month.
6. ABBYY-
The scanner function in the app works almost flawlessly, making it the best business card scanner app for smartphones. Simply launch the app and hold a business card in your camera's field of view. The app automatically recognises the business card, takes its picture, isolates the detail and saves it in your phone book. All these take merely a second or two.
This app not only recognises the usual fields but also unique fields such as quotes, taglines and social media profiles. In case the app does not understand a text, it will highlight it for you to edit and save it. While saving it, the app also notes the location where you got the contact from, handy if you are always on the move.
The app has a free plan as well a paid plan for $30 a year.
7. OneCard-
This app is a bit different from the others. In addition to creating a digital business card, this app allows you to add a bit extra to it. You can add a bio which can help people connect with you. You can keep a video introduction and all your social handles in this digital card.
This app has both free and paid versions. The paid version is $12 a month or $120 a year.
8. Wantedly People-
If you want an app that can quickly scan a business card then this app might interest you. The app automatically opens the camera when you launch the app. You can scan up to 10 cards at a time and import the details in seconds. With only a few taps you can get the job done.
The contacts are stored in the app and can be called and emailed directly from the app. It has some limited functionality but is sufficient for personal usage. The best part about the app is that it is completely free of cost.
9. Knowee-
This virtual business cards app is loaded with many features. You can add links and thumbnails on your digital business card that can be clicked to access. It is very efficient at storing multiple business cards. You can make calls directly from the app.
This app is targeted towards business with plans ranging from 74 cents to $3.55 per user per month.
10. Sansan:-
If you have run a business then this app can help you manage all the business cards of your company in one place. You can use this to keep in touch with every member at any time. You can send bulk emails as well as personalized messages to a particular contact.
While it has a free plan, you can contact the developers to get quotes on pricing determined by your needs.
Conclusion
Business cards in digital format are convenient and easy to maintain. It also saves on paper making it eco-friendly. If you do not have a digital business card then now is the time to get one. Each mobile app development company is bringing out new apps packed with new features. Take help from one of the top apps and get your digital business card created without further delay.
Summary
Article Name :
Top 10 Mobile Apps to Create Business Card Apps
Description :
In this modern age where everything is going digital, business cards too found a way into the digital palace. Nowadays, almost every mobile app development company provides apps for creating and designing digital business cards.
Author :